Learn the Art of Dice Control From the Expert!


The Only Dice School in South Florida!

Click here for the latest articles & trip reports from Howard Rock n Roller!
Click here to sign up for Howard's monthly newsletter!

• Learn How to Play Craps like the Experts
• Precision Shooting & Dice Control
• Dice Setting
• Betting Strategies
• Advanced Throwing Techniques
• Plus much more!

Howard rock 'n' roller is now available for lessons in Florida and Las Vegas!


---
Next out-of-town

workshops:



June 10-11

, Atlantic City Class


August 4-6

, Tunica, MS, Heavy & Howard's Tunica Craps Clinic


November 10-12

, Las Vegas - Veterans Day



NEW CLASS! Due to demand, Howard rock n roller is adding classes in Atlantic City, June 10-11, 2017! Saturday is sold out, limited number of Sunday spots still left.

Your toss will be observed tuned-up, tweaked and perfected. It will be all hands on — no boring lectures! Everyone will have plenty of time to work on their toss under Howard's supervision. We will practice tossing from stick left, stick right, and straight out. We will also go over betting techniques (including playing the "Do" side and the "Don't" side), table etiquette, set, grip, and landing zone, and money management.

In the afternoon, we'll focus on the alternate tosses. You will learn effective new tosses to help you become a stronger shooter. You will be able to play on all tables, and shoot from different positions with confidence. Some of the alternate tosses include: "The Corner Toss", "Split Shot", the "Yuri Low Roll" and others.

The class includes a full day of instruction on Saturday 6/10 and 2-3 live casino sessions with Howard on Sunday 6/11 at no extra charge. One price covers everything.



---
NEW!
---
Howard is available year round in Fort Lauderdale, FL for private and group classes.
Please call (954) 599-8648 to schedule a class.

Future workshop dates to be announced:
Tunica, MS
Las Vegas
Atlantic City

Order a stick of authentic Howard rock 'n' roller casino dice!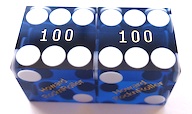 Click here to order Call (954) 599-8648


HowardRocknRoller@gmail.com



Click here to join Howard's mailing list!

Friends of Howard RocknRoller