Testimonial by CrapsForever
Testimonial by Jack Bale
Testimonial by David
Testimonial by OneMoreShot
Testimonial by Ron N.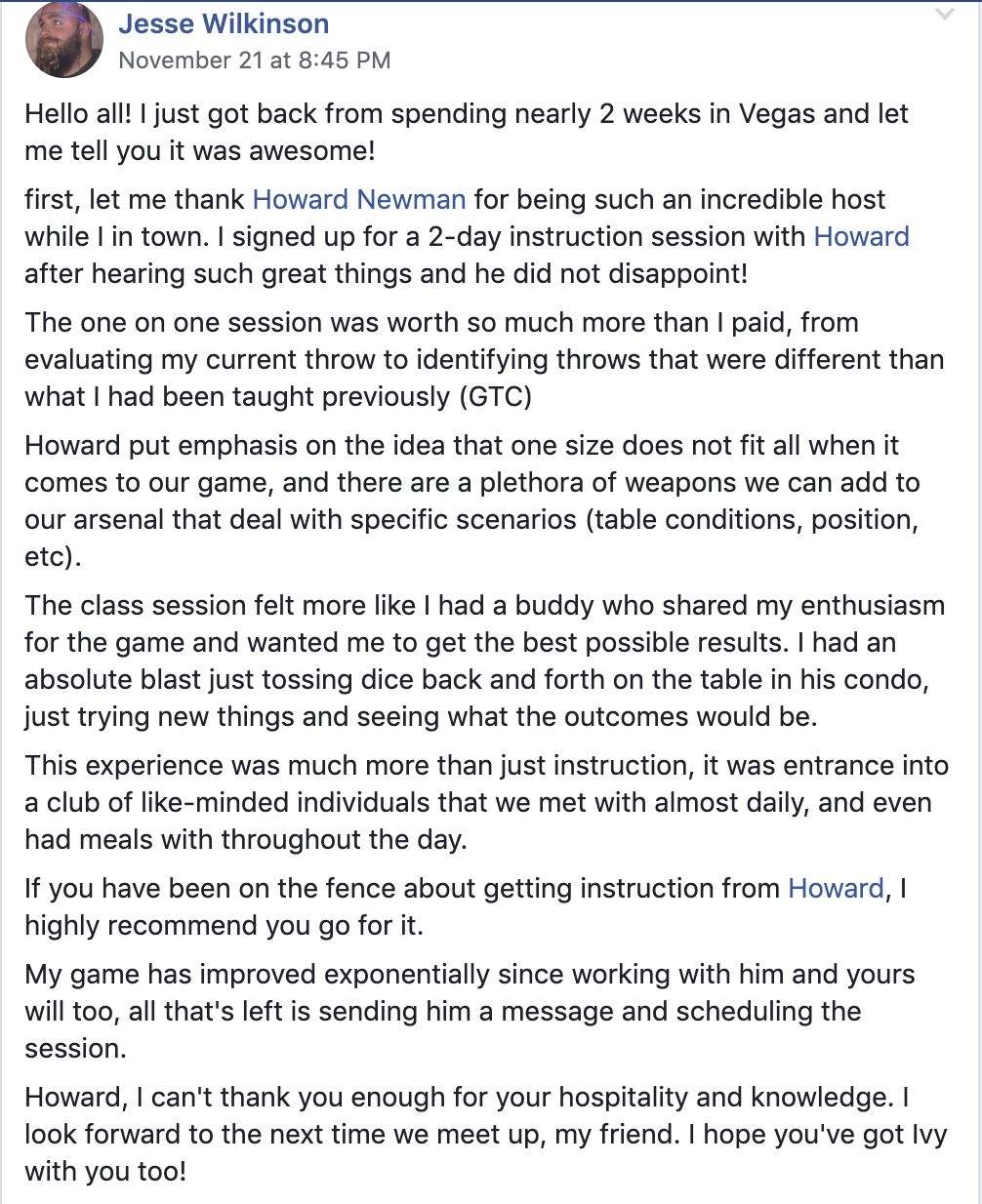 ---
"Tips from Gambling Greats: Howard "Rock 'n Roller" by Frank Scoblete" Read Now!
---
Got the pleasure of going to visit Howard this past Saturday in Florida all the way from Baltimore to get a lesson, I learned so much from him, can't wait to go back to learn even more, he critiques your shot from your main throwing position and then teaches you new shots from different positions. Had a great time and i will be coming back soon hopefully somewhere we can go to the casino and throw together.
—L.E., Baltimore, MD
---
Saturday class was terrific. You cannot get better instruction from more talented people at craps. Besides the completely hands-on instruction with your toss, were the little inside bits of info you have to know to play a good session at a casino. Things to look for, what to track, how to approach different situations.... and the throws. Howard seems to have an endless number of them for different uses.

—thnick
---
"During the past week I drove from Plantation Florida to Howard rock n roller's craps pit in Fort Lauderdale. I'm planning a trip to Paradise Island, Bahamas over the Labor Day weekend. I wanted to give myself the best chance of winning in the casino.

I already had a pretty good toss technique shooting from straight out, but I wanted to learn how to toss the dice from stick right and stick left. Howard demonstrated and taught me two excellent tosses that were easy to master and very effective from those positions. We played a mock game and with the new tosses were able to make multiple points.

My confidence is high and I am looking forward to putting to use the new techniques that I learned, when I visit Paradise Island, this weekend."

–R.D., Plantation, FL
---
Enlightening, eye-opening, innovative, and informative; all words to describe my time spent with Howard rock n roller. Howard is a true Aristocrat of Dice Influence. His knowledge and understanding of the game are impeccable. I am very pleased with my decision to have taken a private lesson. The objective behind my private lesson was to obtain consistency in my toss. Howard has one of the best tosses if not the best in the entire business. Consistency is what makes his toss so great. He is able to replicate every movement associated with his toss over and over again in a seemingly effortless fashion. His toss is very majestic. He put this on full display during our time together and it was rather impressive. Before discovering Howard, I had previously taken three Dice Influencing seminars with another company, but after each course, I was left more confused and full of questions. I am like Hamlet. I am constantly self-reflecting and questioning and this was significantly reducing my Dice Influencing efficiency.

Before Howard rock n roller and I met, I wrote up a course curriculum so that Howard could have an understanding about what I wanted to learn. The course curriculum described each element of Dice Control I wanted to work on (i.e. Stance, Dice Sets, Gripping the Dice, Squaring the Dice, Aiming / Acquiring the Target I want to hit on the table, Back Swing, Front Swing, Landing / Delivering the Dice to the Back Wall, and Betting Strategies). I wrote out my strengths, weaknesses, and what I would like to learn / correct for each element. Howard read the curriculum in depth and tailored a training program catered directly for me. His background as a teacher definitely helped him with this. We established learning objectives and laid the foundation for helping me unlock my full potential.

One of my biggest issues involved my grip. Like Howard, I have a very unique grip. The uniqueness of my grip generates a lot of erratic results in my tosses. With Howard being an artist, he has a keen eye for the smallest details that make the biggest differences. He was able to help me make some key adjustments in my grip that worked out very well and improved my toss tremendously. I no longer have to fiddle around with the dice in order to obtain a proper grip. He helped me develop a technique that helps me grip the dice appropriately each and every time with very minimal manipulation. I also had trouble with my stance and squaring the dice as I set up and get ready to toss. He worked with me to find a stance that was comfortable to me. This allowed me to obtain the level of comfort required to make an effective controlled toss.

I am also more of a visual learner. Howard recognized this and modified his teaching methods to accommodate me. We would engage in volley throwing in which he threw the dice, I would observe him, and then I would toss the dice. This helped me mirror his throw to get me going in the right direction and then he would make some adjustments here or there to perfect me. We went over each correction after it was made until I was comfortable with it and I got it right. We also engaged in some simulated casino sessions to see how well I had progressed based on his teachings. The results of improvement were very apparent as I had several winning hands. Howard also taught me some advanced grips / tosses / techniques, how to shoot from different positions, proper betting strategies and money management protocols, and how to develop a practice routine to ensure the lessons learned become ingrained within me. I obtained all of the tools required to successfully accomplish my primary mission for going to see Howard. I am confident I will achieve my desired level of consistency going forward.

If you are looking to improve your game and take it to the next level, I highly recommend you give Howard Rock N Roller a call. You will not be disappointed. Consistency is paramount and he will help you obtain it. He offers honest feedback and genuinely cares about helping his students. That was big to me. He consistently asked me on several occasions if there was anything I was unsure about and if I wanted to go over it and review it. He wanted to make sure that we went through as many trials as possible to make sure I got things perfect.

I hope my review / testimonial makes the decision of calling Howard Rock n Roller for private instruction much easier for you.

"The Ten Man", Virginia
_________________________
"A few years back, I decided... on a private lesson with Howard in South Florida. After I arrived my rental car plans exploded. I called Howard and to my disbelief he told me... forget the rental, he would pick me up in Deerfield Beach. We did the lesson which incidentally was outstanding and well worth the money, then he lugged me back to my hotel.

After having breakfast with him and his lovely wife, he insisted we spend the day sightseeing the beaches of S. Florida. Howard, myself and a couple of his buddies had a great day which ended up hanging out at South Beach. Lastly, he even drove me back to the airport. What was completely unbelievable, before this I didn't know Howard from the man on the moon, never met the man. Sure I paid Howard for the lesson... but in no way was he obligated to chauffeur me all over Florida for 2 entire days. Speaks volumes about the man's character."

-LeftyAj, Philadelphia
_________________________
Howard, It is NO WONDER that YOU are considered in the dice influencing community as 'THE BEST OF THE BEST'" — Snakeeyes, Las Vegas _________________________
A visit to South Florida to see Howard Rock n Roller is now in the record books. The overall experience in a word …….Excellent.! I highly recommend it!

My goal was to have Howard teach me the overhand shot, the shot he's known for. The lesson itself was what I expected and more. Basically it was 3 hours of dice tossing......No lecturing, grandstanding or self promoting whatsoever. He viewed my grip, stance and shot, demonstrated his version, then went on and made various suggestions / improvements.

He had me toss until we both agreed the shot was working and I was satisfied with the results. When he spotted something technically flawed with my overhand SL shot he did not hesitate to attempt fixing it. After some trial and error we finally scrapped the shot altogether. Instead, he suggested we replace it with an OH corner shot from SL. I've added it to my practice routine.

In my eyes him being so frank and honest about that shot tells me he actually wanted to improve my game. Not someone just collecting a fee, and going through the motions. That's the mark of a good instructor.

BTW, Howard has a boatload of advanced shots he teaches. That's not why I was there, but another high profile DI from this board who shall remain nameless came into town the day I was there and those advanced shots were on his lesson plan.

If you're looking for a dice school / coach I would definitely give Howard Rock n Roller serious consideration. The last thing Howard's peddling is Snake Oil, he's the real deal. Oh, by the way he's a genuine "nice guy" to boot. The worst part about my entire trip to Howard's craps pit was having to leave the paradise of South Florida and return home back north.

I hope this helps anyone considering a dice control class.
AJ, New Jersey
_________________________
In case any of you are interested, I was the high profile DI that came into town and was working with Howard on some advanced tosses/shots. I think AJ gave an excellent description of a training session with Howard. First and foremost Howard is an excellent instructor, so if your thinking of coming to see Howard I can definitely state that afterwards, your tossing should be improved.

A lot of this is really dependent more so on the individual rather than Howard. I tend to opt towards the one on one training as opposed to the group sessions these days. Don't get me wrong, group session training is very good also, but YOU have to make the most of it.

When I started way back, I attended a lot of the group sessions. If you asked any of the instructors, I was always asking questions or trying to squeeze a few more practice tosses to get critiqued, I availed myself of all the time/knowledge I could. I was there to improve MY tossing. It's great to catch up with other DI's, but I'm paying for this time, I'd rather talk about this/that at the buffet. At a certain point, found it was more beneficial for myself just to do individual training.



I cannot praise Howard's personal training highly enough. Howard will go through your tossing, help you make adjustments etc. If your toss isn't looking that good, Howard will let you know so and try to help you fix it. I actually covered a lot with Howard, more so on the basic principles/architecture of some different tosses, rather than continuous tossing.

Howard will be among the first to advocate that you practice your tosses as much as possible, which is why I opt to understand the mechanics of the tosses, because I can practice them on my own. If you want to just show off your toss and have him critique it, he'll do that. The point that I'm making is, Howard does not have a set agenda what your going to do, you need to come with that, and based on that, he'll help you with that.

Howard will go as fast or as slow as you need. This is one of the reasons why I opt for one on one's, I go at the speed that works for me. I don't need to worry about getting bored when the group covers something I already know or get frustrated when they move on to another topic before I've got it yet. I think the key is, you have to be open to improve, you may not have that great a toss and be willing to accept that. There are currently no casino's in his area that have real craps, so we had no distractions.



The worst part of the trip for me? Having to leave, the weather was beautiful, the temperature ideal, the beaches were amazing etc.
PappyVanWinkle, New Jersey
_________________________
I recently took the basics class from Howard RocknRoller. I had never played craps before and knew nothing about the game. Howard was just wonderful - he very patiently explained things several times, so that a complete novice would feel comfortable at a casino. He was able to show me what I was doing wrong, and more importantly, how to make corrections. I played in the casino on the Majesty of the Seas and managed to make a few dollars while having fun.
Thank you, Howard, for an amazing time! I will be back!
Helene M, New York
_________________________
Hello Howard,
Thank you for the lesson today. I am looking forward to working with you again soon. It was well worth the money and my dice toss improved tremendously.
Dave C., Orlando, Fl.
_________________________
Dear Rock n Roller,
My wife and I really enjoyed your class today. You are a terrific teacher and look forward to arranging a tune up class in the near future.
Steve G., Ft. Lauderdale, Fl.
_________________________
I have been playing craps for years, but have not been winning consistently. After taking a tune up lesson with you, I went out on the Black Pearl Casino Boat in Palm Beach and had a 30 hand roll and can't wait to throw the dice again.
Joe S., Palm Beach, Fl.
_________________________
Hey Howard,
My wife and I planned to take a 7 day cruise out of Miami. After talking to Joe S., we decided to fly to Florida a few days early to take advantage of your expertise. You are a great instructor, and your tutoring paid off in the casino on the ship. We both did so well that it helped to pay for most of the cruise. Thank you and can't wait to learn some of your advanced tosses.
Bruce A., Queens, N.Y.
_________________________
I recently took a Basic Class in Craps with Howard Rocknroller. I knew absolutely nothing about Craps or any casino games other than the slot machines and was intimidated by the thought of approaching a table to play. Howard made learning Craps fun and easy and his approach is very hands-on. With one session of Howard's instruction, I can honestly say that I felt knowledgable and comfortable enough to play on my own while on a cruise. Howard is a wizard with craps and I would recommend him to anyone interested in learning. Debi G., Margate,New Jersey
_________________________
Dear Rock n Roller,
When I came to your craps pit, I knew nothing about craps. You explained the layout of the table with a lot of patience, teaching all the bets to me and how the game was played. You taught me a way to hold the dice and throw them that gives me an advantage over the casino. After my Florida vacation, I am going to give the casinos in Chicago a try. I am no longer afraid to step up to the table and look forward to playing craps with confidence.
Amy B., Chicago, Il.
_________________________
Dear Howard,
Thank you so much for teaching my friends, Bobby and Renee, Nancy and I how to play craps, explaining the layout and how to set and throw the dice on axis. We flew down from Atlanta to take a 7 day cruise from Ft. Lauderdale. Thank you for picking us up from our hotel on Ft. Lauderdale beach and driving us back after the lesson. We had a great time on our cruise, and especially had fun at the craps table in the casino. We look forward to taking another lesson with you when we come to Florida again.
John W., Atlanta, Ga.