Learn the Art of Dice Control From the Expert!
Call (954) 599-8648 • HowardRocknRoller@gmail.com


The "Craps Pit!" This is where it all starts! No standing around a Craps table in a casino and listening to a casino employee attempt to explain the game of Craps from the casino's viewpoint!

In the Craps Pit you get hands-on instruction and learn how to win and play the game of Craps, from the pro himself, Howard Rock n Roller!

This is our classroom! Small personalized classes and a maximum of 4 students ensure that you will get your questions answered in a relaxed and comfortable atmosphere.
Each student will have plenty of time throwing the dice and perfecting their skill.
All three classes, The Basics, Dice Setting and One-On-One use the Craps Pit. In The Craps Pit you will use real casino-type chips and learn where to place your bets, and where your money moves when you place a Come bet or make a Place bet. If you are taking The Basics class, you will learn the difference between a Come bet and a Place bet, and which is the best bet for a beginner.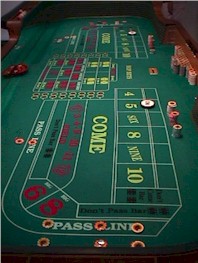 In the Dice Setting class you will learn about the best bets to make with the lowest house edge. The Dice Setting class will also teach you how to identify your own signature numbers and use that to your advantage.

We use regulation casino dice in the Craps Pit. The dice we purchase come from the same companies that the Las Vegas casinos use.

A real casino Craps table, real casino chips and real casino dice! It's a great opportunity to learn casino Craps and dice setting the right way!