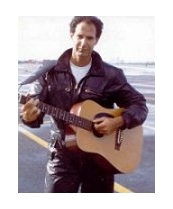 Howard grew up in New York during the 1950's when rock and roll was first beginning. He has been collecting records since he was 10 years old. Hence the name, Howard Rock n Roller. After graduating college, Howard moved to South Florida and worked as an artist and art teacher. He displayed and sold his paintings around the country in many top art galleries

During the mid 1970's Howard was a regular guest on a weekly radio program, the Doug Herth show in Florida. He was the resident oldies expert, where listeners would try to stump Howard with rock n' roll questions. During this time, Howard was discovered by a theatrical agent and acted in many movies and television commercials. Howard plays electric guitar and with his wife formed a rock n' roll band specializing in oldies and top 40.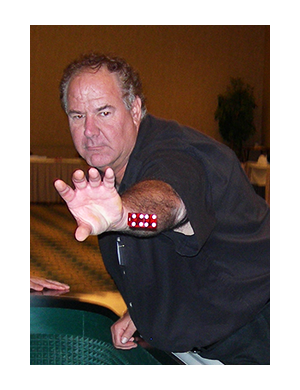 Howard has been playing craps since 1980 and turned professional in 2001. During the 1990's, he noticed that a player in a casino had a piece of paper telling him what numbers to set the dice on. That shooter made 3 points in a row. That started Howard on a quest to find out about dice setting. He read every book on gambling until he finally found one called Casino Gambling. The chapter written about "Sharpshooter" explains the technique of dice setting and dice control. Howard set out on a mission to become the best, and practiced for hours every day. He later took the PARR dice control class, taught by Sharpshooter. Howard excelled in it, and was soon asked to become an instructor/coach.

In 2003 Howard left the PARR group to become a partner and instructor with Golden Touch Craps "GTC", a dice control group with Frank Scoblete and Dominator. He helped hundreds of students learn how to be advantage players by setting and influence the dice. During his tenure with Golden Touch, Howard held some world records including 5 straight days in Tunica, MS with hour long rolls.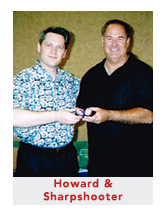 Howard is a big man, but has an amazingly soft touch and an extremely consistent toss. He also was a member of GTC's 50, 60, 70 and 80 roll clubs using the PARR/GTC throwing technique. His longest recorded roll in a casino was an 84 roll hand before the 7 showed. He was known at that time as the Babe Ruth of dice control because of his long rolls and consistantly hitting numerous hard ways.
Living in Florida near the popular ports of Ft. Lauderdale and Miami, Howard does a lot of cruising. His expertise at the craps table oftens pays for the cruise vacation. Howard recently had a 65 roll hand at a craps table on a cruise from Miami on the way to Cozemul, Mexico.
An article in Casino Player Magazine rated Howard as one of the top 10 dice controllers in the nation, in addition to numerous other mentions in dice control articles. Howard is also featured in the following books: The Craps Underground by Frank Scoblete, Golden Touch Dice Control Revolution by Frank Scoblete and Dominator and Wong on Dice by Stanford Wong. He appeared as a craps expert on T.V. and radio and written about in JackPot and Harpers magazines.
Upon leaving Golden Touch in 2008, Howard rejoined the PARR group. In 2009 Howard became an instructor with the Little Joe Dice Control seminars and teaches all around the country.

Howard is now using his expertise giving individual and group lessons in South Florida. Sign up now and learn from one of the best craps shooters in the country.

Call 1-954-599-8648 today.